Dura Max offers Water filled barriers for their customers. The hollow construction of our water-filled barriers is ideal for any building site because they are made of high-quality Polyethylene plastic. When empty, the water-filled barrier is light, but when filled with water, it provides great stability and energy absorption.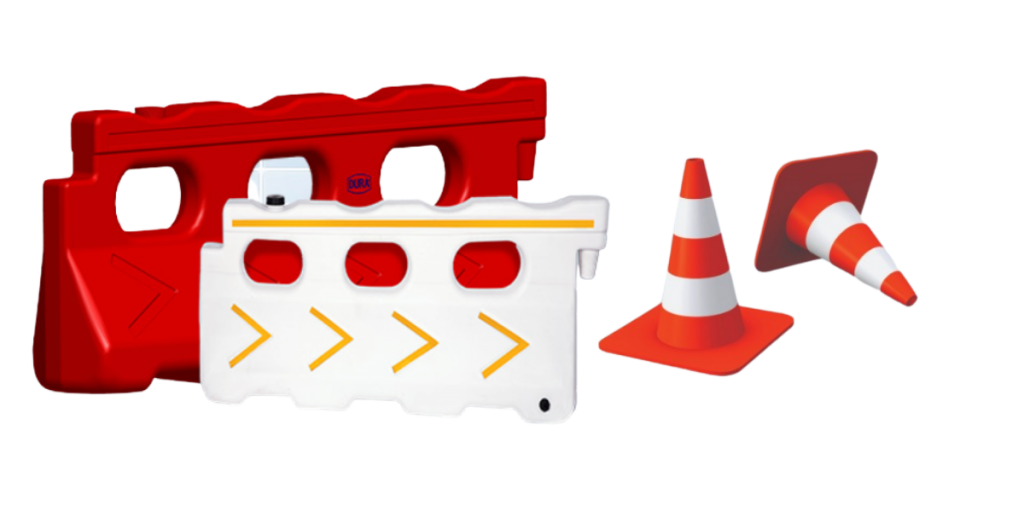 We built our barriers to be exceptionally tough and resistant to splitting, breaking, and deteriorating even in bad weather because we know your construction project deserves the best equipment.
Our clients have used our water-filled barriers in a variety of settings, including:
– Work zones – Construction zones
– Traffic management – Temporary roadblocks
– Projects involving public works
– Sporting and special events
– Traffic Rerouting
Moreover, In almost every construction zone, a delicate balance must be achieved between the safety of cars and the safety of employees. According to statistics, drivers and their passengers account for the majority of fatalities in work zones.
Although the forces from impact with a water barricade on passengers and automobiles are substantially smaller than those from a concrete barricade, a ballasted barricade does the job of safeguarding personnel in the region.
Also, Water-filled barriers are an excellent alternative to standard roadblocks since they absorb the force of oncoming traffic while also increasing the safety of both drivers and workers. Water-filled obstacles have become one of the most popular solutions for work zones due to their practical and cost-effective nature.
When filled with water for balance, these obstacles are quite light when empty, making them ideal for travel and handling as well as stacking when not in use. Water filling gives these barriers the added benefit of being able to be filled in place as needed while also providing exceptional stability.
Setup and transportation are both quick with Water Filled Barriers.
The ease with which the water-filled barriers may be transported and set up will be appreciated by your construction personnel. The lightweight of empty barriers allows for easy completion of all activities by a two-man crew, which is perfect when temporary limits are required quickly. Water-filled barriers provide a quick reaction in emergency situations while also providing suitable security on a temporary basis.
Water filled Barrier Colors with a lot of visibility
Our barriers are built with highly visible colors to offer optimal safety for traffic and construction employees in all weather and situations. Temporary impediments, which commonly present an 'unexpected' aspect for automobiles and pedestrians, such as those used to delineate diversions and temporary closures, are especially important.
Water-filled barriers are easily visible from a safe space, thanks to their wide spectrum of high-visibility colors. This improves safety, intelligibility, and accessibility.
Water-filled Barriers Interlocking Design
Our modular design gives your workers the flexibility they need to deal with a variety of conditions. Obstacle runs an entire margin border are easy to create to fulfill a variety of installation and demarcation needs.
Water-filled obstructions can be linked to form bends to the right and left, as well as straight lines, with full connection, reducing the risk of cars or vandals accidentally or purposefully altering the impediments.
Water-filled obstacle runs can be simply added to when additional barriers are needed or as work proceeds, even though they are active and give high equilibrium once built and filled. For more details, please check our Road Safety Barriers Page.