Dura Max Offers excellent Plastic products for the last 30 years in Pakistan. Their Garbage Bins are masterpieces. As we generate trash and garbage every day which requires attention on a regular basis to maintain cleanliness, safety, and a healthy environment. Dustbins are an important factor for both human health and environmental development. Hence, choosing the right garbage bins and using them responsibly can benefit the ecosystem. Duramax understands this and offers the perfect solution for waste management.
Dura Max offers state-of-the-art waste bins which meet all the industry standards. Our Products are widely used by industries and public places. Such as municipalities, airports, cooperative housing societies, parks, commercial and residential complexes, hotels and restaurants, etc. Moreover, Duramax is committed to innovation and better products for you and society. So, what are you waiting for?
Make cleaning faster and easier by ordering the right waste management products from Pakistan's most trusted manufacturer.
---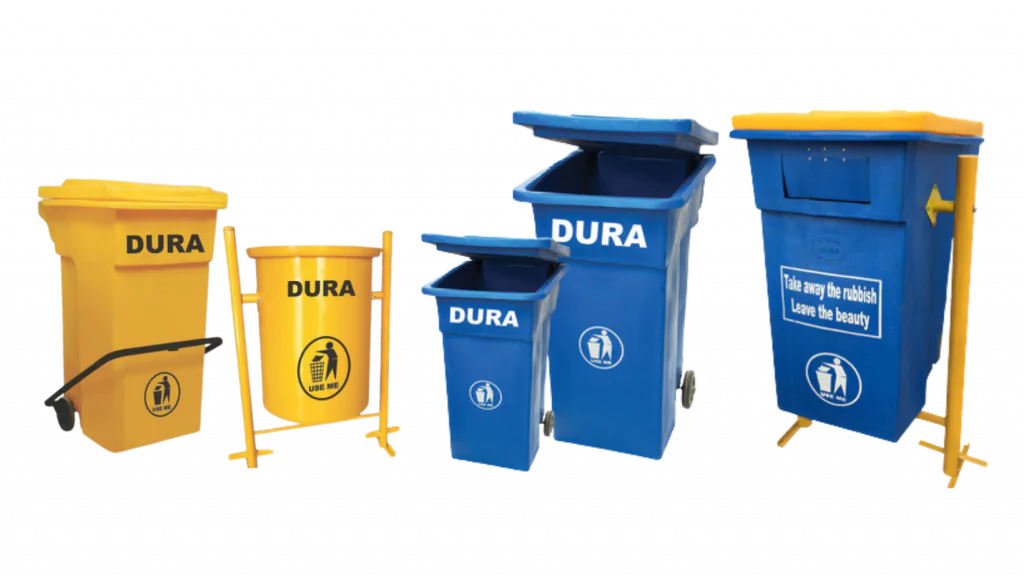 ---
"The Heart and Soul of the Company is creativity and innovation".
Field of Application
Garbage storage: it helps maintain cleanliness and hygiene in our day to day lives by storing household waste as well as waste from industries and biomedical waste.
Waste segregation: trash cans of different colors help in segregation the waste thereby improving the efficiency of waste collection and disposal.
Gardening: old garbage cans can be recycled and used in the garden to collect and dispose of weeds, leaves, grass, and debris as well as storing soil and other compost materials.
Equipment storage: trash cans are good storage solutions for things like brooms, mops, wrapping paper and sporting equipment such as balls, bats, rackets, and frisbees.
Animal feed storage: storing pet food in a durable new garbage can mistakes storing easier and keeps food fresh, particularly on farms, animals shelters and equestrian or veterinarian venues.
Features
Environment friendly.
Long lasting
Easy to use & maintain
Safeguards public health
Prevent diseases
Assured safely for workers
UV stabilized
Non-fading colors